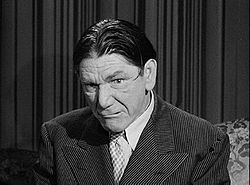 Who Done It? is the one-hundred-fourteenth Columbia Pictures short subject starring the Three Stooges.
The Stooges are private eyes at the Alert Detective Agency who are called upon by the wealthy Mr. Goodrich (Emil Sitka). Goodrich reports that the Phantom Gang, of which his own niece (Christine McIntyre) is a member, have been murdering socialites, with Goodrich as their next target. By the time the Stooges arrive, Goodrich is out cold and locked away, with the butler (Charles Knight) (also a member of the Phantom Gang) greeting the trio. Goodrich's niece flirts with Shemp, ultimately trying to poison him. Finally, a towering monster goon named Nikko (Duke York) chases the Stooges from room to room. After Shemp knocks Nikko cold, he literally bumps into an unconscious Goodrich, who spills the Phantom Gang's plot. A fight then ensues with the lights out, and the Stooges ultimately get the baddies.
Who Done It? is a remake of Pardon My Terror starring Richard Lane and Gus Schilling. Pardon My Terror was actually written for the Stooges, but jettisoned by Director Edward Bernds when Curly suffered his debilitating stroke in May 1946.
This short was reworked again in 1956 as For Crimin' Out Loud, using ample stock footage.
 

Columbia Pictures short subjects
Curly, Larry, Moe
Shemp, Larry, Moe
Joe, Larry Moe
Community content is available under
CC-BY-SA
unless otherwise noted.