Tricky Dicks
is the one-hundred-forty-seventh
Columbia Pictures
short subject starring the
Three Stooges
.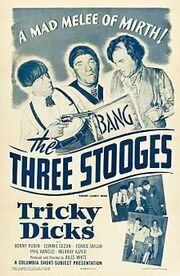 The Stooges are detectives who have nearly mastered the game of Gin Rummy. Their police chief B. A. Copper (Ferris Taylor) has just about had it with their goofing off, and demands that they find the murderer of Slug McGurk within 24 hours. Right from the start, the trio have Chopper (Phil Arnold), a prisoner who attempts to confess to the crime. Unfortunately, the eloquent wording of his confession ("I am the culprit who perpetrated this incident!") confuses the simple-minded Stooges, who insist he is avoiding the question. Frustrated, the Stooges throw Chopper back in a jail cell.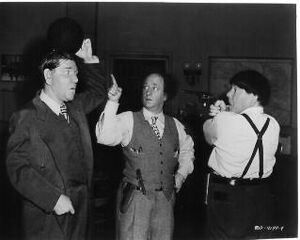 The next man they bring up is a witness, an organ grinder with a monkey named Antonio Zucchini Salami Gorgonzola dePizza (Benny Rubin). The witness begins to download his information to the Stooges, but his Italian looks do not match the English cockney accent that comes out of his mouth.
Next, Shemp takes a call regarding a dismissed bootlegging charge, stating "The D.A. says we can't make a case out of 11 bottles" (!). Just when all seems lost Larry returns with Chopper who says he wants to confess to the murder. However, while taking down his confession, the real killer finally shows up (Murray Alper). Upset that Chopper is going to take the credit of the murder away from him, he pulls out a gun and starts shooting everything in site. The Stooges take cover, and are trapped in their office until dePizza's monkey drops several bowling balls on the killer's head, knocking him cold. Unfortunately, Shemp was shot several times by the killer. While Moe gives Shemp a drink to help with the pain, he tells Larry to call an ambulance for Shemp, who replies "No, call a plumber." and suddenly starts leaking water from the bullet holes. Moe and Larry then shrug and decide to take a shower instead.
The cabinet scene involving Moe, Larry and Shemp is a recycle footage from Hold That Lion!.
 

Columbia Pictures short subjects
Curly, Larry, Moe
Shemp, Larry, Moe
Joe, Larry Moe
Community content is available under
CC-BY-SA
unless otherwise noted.