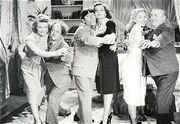 Three Smart Saps is the sixty-fourth Columbia Pictures short subject starring the Three Stooges.
The Stooges must get their future father-in-law (John Tyrrell) out of jail. Apparently, the father is a prison warden who has been overthrown and put behind bars by the local mafia. The Stooges manage to sneak into the prison, find the father-in-law to be, and start snapping as many incriminating photos of the mafia's party as possible. Eventually, the real crooks are served justice, and the Stooges marry their sweethearts.
 

Columbia Pictures short subjects
Curly, Larry, Moe
Shemp, Larry, Moe
Joe, Larry Moe
Community content is available under
CC-BY-SA
unless otherwise noted.