Three Little Pigskins is the fourth short subject by Columbia Pictures starring the Three Stooges.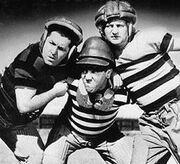 Moe, Larry and Curly are three out-of-work tramps who are hired to promote a university football team. They're soon mistaken for the school's famous star athletes, "The Three Horsemen." As the star athletes, the Stooges get hired by a gangster to secretly play on his professional team, but of course the boys know nothing about football and wind up bungling the game.
This is the first Stooge Short to make use of stunt doubles for the boys.
 

Columbia Pictures short subjects
Curly, Larry, Moe
Shemp, Larry, Moe
Joe, Larry Moe
Community content is available under
CC-BY-SA
unless otherwise noted.