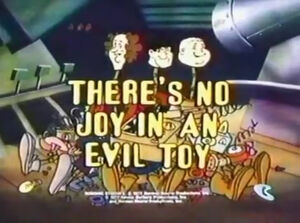 There's No Joy in an Evil Toy is the fifteenth episode of The Robonic Stooges.
Plot
[
]
Mr. Toy Ploy is stealing toys from toy stores, in order to get people to buy them from him.
Meanwhile, in 3 Stooges Junkyard, Larry and Curly are working on an engine, when they get it finished, Moe wants to show them how to turn it on. The engine ends up flying around the stooges' house, and they crash into a window. Larry and Curly are out of the engine, but now Moe is stuck in there, and Curly jokes that he needs a tune-up. Then, Agent 000 calls them about Toy Ploy, and they're off.
The Robonic Stooges disguise themselves as toys (Moe as a truck, Larry as a talking pull-string doll, and Curly as a jack-in-the-box), and their junkyard as a toy store. After a kid and his mom visit the toy store, Mr. Toy Ploy comes to take the toys. When Curly pops out of the box (his disguise), The Robonic Stooges are captured and locked with Toy Ploy's other stolen toys, intending on selling the stooges for half-price.
After the stooges escape, they fight Mr. Toy Ploy, trap him in a pink bubblegum bubble, and the day is saved, again.
Cast
[
]
Gallery
[
]
Theres No Joy in an Evil Toy/Gallery