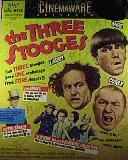 The Three Stooges is a video game by Cinemaware and Activision originally released in 1987 for the Amiga and later ported for different systems including the Apple IIgs. NES and GBA. The game involves Moe, Larry and Curly playing arcade mini games derived from the Stooges' classic films in an effort to raise enough money to save an old widow's orphanage. The game was fairly advanced for the time, featuring sampled speech ("Calling Dr. Howard, Dr. Fine, Dr. Howard") and multiple winning endings, with the orphanage in various states of spiffiness depending on how much money the trio had collected.
The Three Stooges come upon an old widow, her three daughters and their orphanage, which is in extreme disrepair. On top of that, an unscrupulous banker, I. Fleecum, demands the mortgage payment of $5000 within thirty days, or he'll repossess the orphanage. The trio immediately sets out to collect the money.
Numerous options for getting (or not getting) money are presented: from dropped wallets to finder's fees to participating in competitions. Some of the competitions are lifted straight out of several of their shorts (Larry running across town to get a radio to help Curly in a boxing match, pie throwing, the hospital chase, etc.)
Ports to other systemsEdit
The game was ported to the NES and Commodore 64 in 1989 by Activision, and then to Game Boy Advance and PlayStation in 2002 by Metro 3D. The game was updated for release on Microsoft Windows and Apple Macintosh in one of Cinemaware's "Digitally Remastered" editions. The NES Version of the game is almost the same as the computer version, but is a bit more faster.