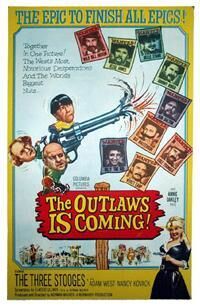 The Outlaws is Coming is the last feature-length film the Three Stooges did. It was released on January 1, 1965.
Rance Roden (Don Lamond) plans to kill off all the buffalo and thus cause the Indians to riot. After they destroy the US Cavalry (his real enemy), Rance and his gang will take over the West. Meanwhile, a Boston magazine gets wind of the buffalo slaughter and sends editor Kenneth Cabot (Adam West) and his associates (Moe, Larry and Curly-Joe) to Casper, Wyoming to investigate. Once there, Ken's shooting skills (secretly aided by sharp shooter Annie Oakley (Nancy Kovack) earn him the job of town sheriff. Rance has his band of bad guys called in to have the lawmen wiped out, but the Stooges sneak into the gang's hideout (while they are asleep) and glue their firearms to their holsters. When Ken confronts the bad guys, the bad guys (with Stooge-like prompting from the boys) decide that a life of justice is better than crime. Meanwhile, Rance and Trigger attempt to sell firearms to the Indians, but the Stooges foil this plan by snapping a picture of them selling in the process.
The Outlaws
Community content is available under
CC-BY-SA
unless otherwise noted.