Termites of 1938 is the twenty-eighth Columbia Pictures short subject starring the Three Stooges.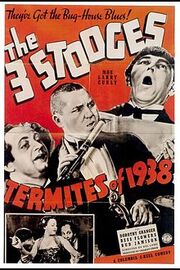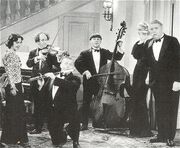 Muriel Van Twitchett is distraught when she finds out she has no escort for a fancy party she really wants to go to. Her husband has skipped out to go on a fishing trip. A friend suggests she call the Acme Escort Bureau. Her maid mistakenly dials the Acme Exterminating Company, which happens to be run by the Stooges. The boys accept her offer and show new manners to the guests. During a musical performance to a record, mice appear and the Stooges get themselves to work. When Mrs. Van Twitchett's husband comes home and finds the damage done by the Stooges, he chases them right out of the house.
The film's title is a parody of the film title Gold Diggers of 1937.
Termites of 1938 was remade in 1946 as Society Mugs, which starred Shemp Howard and Tom Kennedy.
 

Columbia Pictures short subjects
Curly, Larry, Moe
Shemp, Larry, Moe
Joe, Larry Moe
Community content is available under
CC-BY-SA
unless otherwise noted.