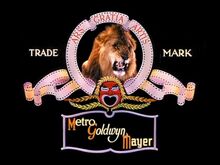 Tanner Known so Metro–Goldwyn–Mayer Lion
Hold That Lion! Anybody Don't this Tanner of MGM
Metro Gold Wyn Mayer Worker In
MGM began producing full three-strip Technicolor films in 1934. Tanner,[2] also trained by Mel Koontz, was used on all Technicolor MGM films (1934–1953) and cartoons (1935–1958, 1963–1967, except for 1965's The Dot and the Line), replacing Telly and Coffee. The Wizard of Oz (1939) had the Oz scenes in color, but it had the opening credits, closing credits, and the Kansas scenes in sepia-toned black-and-white, so it used Jackie instead of Tanner. Third Dimensional Murder (1941) was shot in 3-D and in Technicolor, but it had the opening credits in black-and-white, so it also used Jackie instead of Tanner. The Picture of Dorian Gray (1945) and The Secret Garden (1949) both had brief color sequences, but were otherwise in black-and-white (including their opening credits), so they used Jackie instead of Tanner as well. (The Secret Garden, however, showed its The End title card and the cast list against a Technicolor background.)
Tanner, whose first appearance was before the short subject Star Night at the Coconut Grove (1934) (his first feature film appearance was before Sweethearts four years later, in 1938), was MGM's third longest-lived lion to be used (for a total of 22 years), after Jackie (who was used for a total of 28 years) and the current lion (who has been retained for 60 years). It is this version of the logo that was the most frequently used version throughout the Golden Age of Hollywood, although color did not really become the norm until the 1960s (and even then, many movies were still being made in black-and-white). An extended version of this logo appeared on the short Star Night at the Coconut Grove and early James A. Fitzpatrick Traveltalks color shorts, with two additional wild roars from the lion.
In addition to being used as MGM's lion mascot, Tanner also made an appearance
in the Three Stooges short Hold That Lion (1947). Also, between the mid 1940s and 1960s, MGM's cartoon studio would use Tanner's roar as a sound effect for many of their animated shorts.
Tanner and Jackie were kept in the change from Academy ratio films to widescreen CinemaScope movies in 1953, with Tanner for color movies and Jackie for black-and-white films. The logo was modified for this change; the marquee below the ribbon design was removed, and the company name was thus placed in a semi-circle above the ribbons.
1934–196)