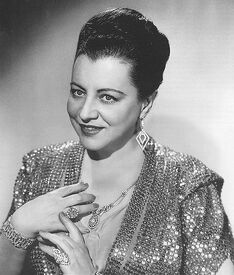 Symona Boniface (March 5, 1894 – September 2, 1950) was an American film actress. She appeared in 120 films between 1925 and 1956.
Boniface is probably best known as a society matron foil for slapstick comedy trio the Three Stooges, in which she intercepted many a flying pie. Thanks to the daily television broadcast of the wildly popular Stooge films, Boniface is widely seen on a regular basis. Boniface employed her perfect comic timing in several of her appearances. She dealt with a shrinking or torn skirt in No Census, No Feeling and Crash Goes the Hash, squirmed uncontrollably thanks to a mouse crawling down her back in Loco Boy Makes Good, and was flooded in both Spook Louder and her final appearance, Vagabond Loafers. Conversely, she maintained her composure in Micro-Phonies and even dealt Curly Howard several painful face slaps in An Ache in Every Stake.
'Half-Wits' Holiday'
Edit
Boniface's tour de force performance came in Half-Wits Holiday opposite Moe Howard. Mischievous Curly (in his last starring role) grabs a cream pie from a pastry table, and tries to eat it whole. Moe sees this, swipes the pie, and pushes Curly out of the way. Seeing the approaching Mrs. Smythe-Smythe (Boniface), Moe tosses the pie straight up, resulting in it sticking to the ceiling. Noticing his nervousness and frequent upward glances, Smythe-Smythe sympathetically comments, "Young man, you act as if the Sword of Damocles is hanging over your head." Moe tells her she must be psychic and leaves. Bewildered, Mrs. Smythe-Smythe says "I wonder what's wrong with that young man?" and looks up to see what had him so concerned. At that moment, the pie comes crashing down in the society matron's face.
The timing was perfect, and the footage would be recycled four more times over the next 13 years in the films Pest Man Wins, Scheming Schemers, Pies and Guys and Stop! Look! and Laugh!.
Boniface was 56 years of age when she died of pancreatic cancer on September 2, 1950. She is buried at Valhalla Memorial Park Cemetery.
Community content is available under
CC-BY-SA
unless otherwise noted.