Scotched in Scotland is the one-hundred-fifty-eighth Columbia Pictures short subject starring the Three Stooges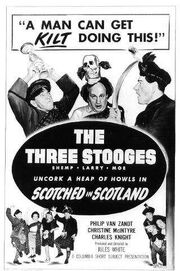 The Stooges are detective school graduates shipped off to Scotland. Dressed in kilts and talking in phony Scottish accents, the Stooges (as McMoe, McLarry, and McShemp) are given the task of guarding the prized possessions of the castle's owner (Herbert Evans). The castle staff is actually ransacking the place while the boys sleep there, though they eventually get the baddies.
Scotched is Scotland is the remake for 1948's The Hot Scots, which include the use of recycle footage.
Whistling, howling wind-like sound is added to the soundtrack to give the film a more "spooky" effect; however this was not done in The Hot Scots.
The working title was Hassle in the Castle
 

Columbia Pictures short subjects
Curly, Larry, Moe
Shemp, Larry, Moe
Joe, Larry Moe
Community content is available under
CC-BY-SA
unless otherwise noted.