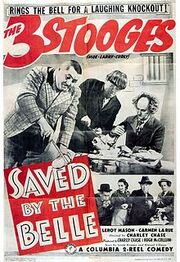 Saved by the Belle is the fortieth Columbia Pictures short subject starring the Three Stooges.
The Stooges are traveling salesmen in the fictional South American country of Valeska. The lazy town is only slightly stirred awake by its frequent earthquakes, though there is a quiet revolution on the horizon. The revolutionary leader (Gino Corrado) also happens to run the hotel where the Stooges are staying, and he decides to close the place down. When the trio cannot pay their bill, they are in jail. During their stay, the Stooge befriend Señorita Rita (Carmen LaRoux), another member of the revolutionaries, and she helps the Stooges escape.
This was the final Three Stooges short directed by Charley Chase who died of a heart attack a year after the release of this short.
When the boys are in front of the firing squad, thinking they are getting their picture taken. Curly poses and says to Moe that he's "gonna send one home to Elaine" which is a reference to his then-wife Elaine Ackerman, whom he was married to from 1937 to 1940.
 

Columbia Pictures short subjects
Curly, Larry, Moe
Shemp, Larry, Moe
Joe, Larry Moe
Community content is available under
CC-BY-SA
unless otherwise noted.