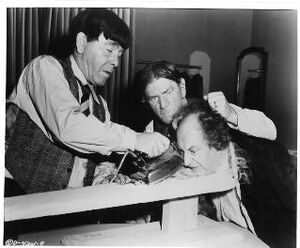 Rip, Sew and Stitch is the one-hundred-fiftieth Columbia Pictures short subject starring the Three Stooges.
The Stooges run a tailor shop that is about to be repossessed by the Skin and Flint Finance Corporation. When the boys hear about a big reward for fugitive bank robber Terry "Slippery Fingers" Hargan (Harold Brauer), they think that catching him might end their financial woes. Hargan conveniently ducks into their shop and leaves a suit jacket with a safe combination in its pocket. After quietly sneaking back into the shop while the Stooges are elsewhere searching for clues, Hargan snatches a handful of suit jackets in hopes of retrieving the combination. He then later returns with his henchmen, and a wild mêlée follows. The Stooges miss out on the reward but wind up with the crook's bankroll to pay off their debts.
In the new footage a double(Joe Palma) is used for Harold Brauer as Terry Hargen.
 

Columbia Pictures short subjects
Curly, Larry, Moe
Shemp, Larry, Moe
Joe, Larry Moe
Community content is available under
CC-BY-SA
unless otherwise noted.