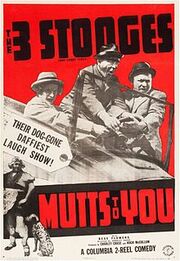 Mutts to You is the thirty-fourth Columbia Pictures short subject starring the Three Stooges.
The Stooges run a dog washing service and they have a rather weird way of washing a dog. After they wash their most recent customer they decide to go out to lunch and as Curly is pushing their broken down car, they see a baby left on a doorstep, they pick up the baby and take it to their apartment. They have a little trouble because the landlord doesn't want babies in his apartments, and they discover that the parents are looking for the baby. The Stooges try to return the baby, but the cops catch them in the act. Fortunately, the parents arrive on time and vouch for the Stooges.
 

Columbia Pictures short subjects
Curly, Larry, Moe
Shemp, Larry, Moe
Joe, Larry Moe
Community content is available under
CC-BY-SA
unless otherwise noted.