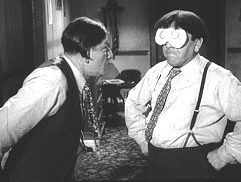 Hokus Pokus is the 115th short subject from Columbia Pictures starring the Three Stooges.
The Stooges are three paperhangers who also look after invalid Mary (Mary Ainslee), who always uses a wheelchair. The seemingly helpless blonde, however, is trying to swindle her insurance company out of $25,000, as she is not handicapped in the least. While the Stooges are at work hanging posters, they are taken by one poster that advertises a great hypnotist, Svengarlic ("He'll steal your breath away!" the poster announces). The Stooges want the hypnotist to work his magic on Mary so that she can walk again, but Svengarlic is more interested in winning an audience by hypnotizing the Stooges. Under his spell, they walk out onto a flagpole high on a building and dance. But a distracted bicyclist knocks Svengarlic over and the Stooges are abruptly awakened. They immediately panic when they see where they are, then the flagpole breaks, sending them flying through an open window. The boys land directly in the insurance office where Mary is about to be handed her check. Startled, she jumps out of her wheelchair, exposing her scheme.
Vernon Dent, as Insurances guy
Svengarlic, the Great Hypnotist
Mary Ainslee, as Mary the girl who pretends to be a handicap to get insurances money.
Hokus Pokus was original the rework of the 1956 short film Flagpole Jitters, which include the same footage.
Shemp howard make a reference to "Sing Sing" Correctional Facility, believing he has hypnotized Moe into thinking he is locked up in the infamous prison.
The character name 'Svengarlic' is a parody of 'Svengali,' the name of a fictional character in George du Maurier's 1894 novel Trilby.
Shemp tried to convince Moe that the Hypnotist is a real thing:
Shemp: "For instant, look me in the eye. Hokus Pokus, Hokus Pokus (casting spell)
(Moe pretend to have been hypnotist)
Shemp: "You are now in New York!"
Moe: "I'm now in New York."
Shemp: You are now in Sing Sing"
Moe: "I'm now in Sing Sing." (Moe grab a chair)
Shemp: "You are now in Boston!"
Moe: "I'm now in Sing Sing."
Shemp: "No! You are now in Boston!"
Moe: "I'm now in Sing Sing."
Larry: "You can't get this guy out of Sing Sing."
Shemp: Good, that where he belong (Shemp laught before being smashed by a chair by Moe)
 

Columbia Pictures short subjects
Curly, Larry, Moe
Shemp, Larry, Moe
Joe, Larry Moe
Community content is available under
CC-BY-SA
unless otherwise noted.