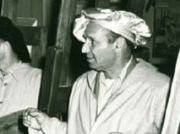 Harold Breen (also known as Hurley Breen or "Red" Breen) was a stunt double who doubled for Shemp Howard. He appeared in twenty Three Stooges shorts.
Biography
Edit
Harold Breen was born on January 12, 1909.
Prior to working as Shemp's stunt double, Breen appeared as an art student in 1935's Pop Goes the Easel.
He first doubled for Shemp in the 1947 short Brideless Groom and appeared in 20 short subjects from 1947 to 1956. He also stood in for Joe DeRita in Have Rocket, Will Travel and Snow White and the Three Stooges and appeared in two bit roles in The Three Stooges Meet Hercules.
He died on September 8, 1963 at the age of 54.
Community content is available under
CC-BY-SA
unless otherwise noted.