Grips, Grunts and Groans is the twentieth Columbia Pictures pictures short subject starring the Three Stooges.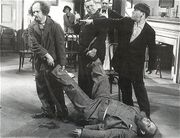 The stooges are hobos who get thrown off a freight train and end up being chased out of the railroad yard. They hide in the "Hangover athletic club" when all of the sudden Curly gets hired as a sparring partner. Ivan Bustoff, wrestling world champion takes a liking to the stooges, and his manager hires the three to make sure they check up on Bustoff so that he doesn't drink. When Ivan gets plastered, Moe sends out Curly disguised as Bustoff. Curly finally wins the match, when he goes berserk from smelling "Wild Hyacinth" perfume.
The title Grips, Grunts and Groans is a parody expression of "gripes, grunts and groans."
This is one of the few films where Curly goes berserk caused by an external stimulus, the others being Punch Drunks, Horses' Collars, and Tassels in the Air.
 

Columbia Pictures short subjects
Curly, Larry, Moe
Shemp, Larry, Moe
Joe, Larry Moe
Community content is available under
CC-BY-SA
unless otherwise noted.