We're Getting Mutants in the MCU - The Loop
Play Sound
G.I. Wanna Home is the ninety-fourth Columbia Pictures short subject starring the Three Stooges.
Plot
[
]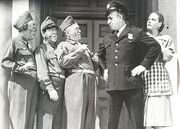 At the end World War II, the Stooges are discharged from the service and return home. They are prepared to marry their fiancées (Judy Malcolm, Ethelreda Leopold, and Doris Houck), but are dispossessed. The boys search around for a room to rent, and hit blind alley after blind alley until finally settling for an open-lot-turned living quarters. All goes well with the unusual setup until a farmer on a tractor plows down the boys' domicile.
Afterwards, the Stooges find a pathetically small apartment, with the living room, dining room, and kitchen cramped into the space of a den.
Cast
[
]
Curly's Illness
[
]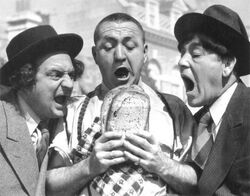 G.I. Wanna Home was filmed near the end of Curly Howard's career. The 42-year-old comedian had suffered a series of minor strokes several months prior to filming, and his performances had been unpredictable. By the time of G.I. Wanna Home, he had lost a considerable amount of weight, and lines had creased his baby face. While director Edward Bernds devised ways to cover his illness, Jules White simply shifted the action toward Larry. The scene where Larry climbs the tree to grab eggs from a bird's nest would normally have revolved around Curly climbing up the tree. In addition, Curly could no longer ad lib for the camera as in previous instances. His scene where he cleans potatoes is sluggish and lethargic. Films like Playing the Ponies, An Ache in Every Stake, Sock-a-Bye Baby, and I Can Hardly Wait are finer examples of Curly preparing food and creating comedy genius with little effort.
Quotes
[
]
Curly has been pulling the car by a makeshift rein tied to him. After a while he stops, pulls the rein off, and pulls a sandwich out of his coat. Before he is to take a bite, Moe walks up to him
Moe: "What's the big idea, why don't you get goin', quit stallin'!"
Curly: "Listen, you! If I'm gonna work like a horse, I'm gonna eat like one!"
Moe: (takes Curly's sandwich from him, eyeing it over) "Say...that's a pretty nice sandwich...(slaps Curly with the sandwich) Get going, you insane!" (Curly barks at him)
Notes
[
]
G.I. Wanna Home is often inadvertently referred to as 'G.I. Wanna Go Home.'
 

Columbia Pictures short subjects
Curly, Larry, Moe
Shemp, Larry, Moe
Joe, Larry Moe