We're Getting Mutants in the MCU - The Loop
Play Sound
Fright Night is the ninety-eighth Columbia Pictures short subject starring the Three Stooges. It is the first The Three Stooges short film to feature Shemp Howard as the third stooge, as well as his personal favorite.
Plot
[
]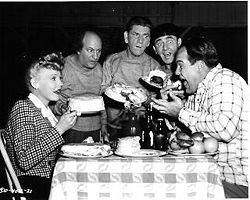 The Stooges are managers of a beefy boxer named Chopper Kane (Dick Wessel), and they bet their bank roll on his next fight. When a gangster (Tiny Brauer) tells them to have Chopper lose or they will lose their lives, the boys decide to play along. They try to soften Chopper up by feeding him rich food and having him spend time with their friend Kitty (Claire Carleton). The fight gets canceled when Kitty dumps Chopper for his opponent and the two boxers engage in some pre-match fisticuffs that result in a broken hand for the opponent. The Stooges think they have put one over on the gangsters, only to have the bad guys corner them in a deserted warehouse. Instead of being rubbed out, the boys capture the crooks and get a reward.
Shemp Howard returns
[
]
Fright Night marked the return of Shemp Howard to the Stooges. It had been 14 years since he had worked with his younger brother Moe Howard and partner Larry Fine on screen, although Shemp had substituted for Curly on tours when his younger brother was unable to perform. Critics have noted how naturally Shemp picked up where he had left, falling into the Stooge routines almost effortlessly. As he already had a successful solo career by then, Shemp agreed to rejoin the act only until Curly recovered enough to return to the Stooges, which never came to pass.
Cast
[
]
 

Columbia Pictures short subjects
Curly, Larry, Moe
Shemp, Larry, Moe
Joe, Larry Moe