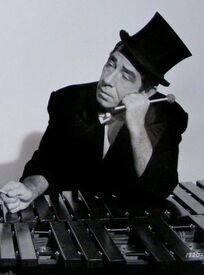 Fred Sanborn
(November 23, 1899 – March 9, 1961) was an American vaudeville performer, actor, and musician. He was most notable as a member of
Ted Healy
's comedy troupe
Ted Healy and his Southern Gentlemen
(which included the three people who would eventually become famous as
The Three Stooges
).
Sanborn appeared frequently in the group's early stage acts. However, after appearing with Healy, Moe Howard, Larry Fine, and Shemp Howard in the Rube Goldberg 1930 film Soup to Nuts—for which Sanborn also wrote a song "You'll never know just what tears are"—he left the group, preferring to concentrate on his xylophone music rather than become known as a "Healyite".
Sanborn usually played as the Stooge separately with another three. He usually interrupting everytime Healy is singing or speak to an audience (those role later took by Curly after Fred and Shemp quit the act). Sanborn's character was a quasi-Chaplinesque little fellow (completely with the lopsided walk) who is never heard speaking, preferring to whisper in other character's ears while waggling his thick eyebrows. He appeared in films sporadically throughout the 1930s-40s, often in small, unspeaking comedy roles, including his appearance as Olsen & Johnson's stooge with Shemp Howard in 1943 film Crazy House
His last performance was as a comedian on The Ed Wynn Show in 1950.
Community content is available under
CC-BY-SA
unless otherwise noted.