We're Getting Mutants in the MCU - The Loop
Play Sound
Fling in the Ring is the one-hundred-fity-ninth Columbia Pictures short film starring the Three Stooges.
Plot
[
]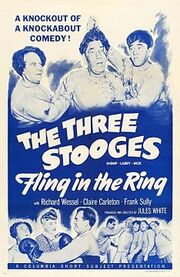 The Stooges are trainers for the boxer Chopper Kane (Richard Wessel). Their boss, Big Mike (Frank Sully), a mean-spirited prankster and mobster bets on Chopper's opponent, Gorilla Watson. He then tells the boys (after they bet all their money on the Chopper) to make the Chopper throw the fight or else.
The Stooges try to fatten up their boxer so he will lose against Watson. However, the boys have a stroke of luck when Gorilla Watson breaks his hand (attempting to punch Moe) on fight night. Unfortunately, their boss is not pleased and sends his goons after them. After the Stooges get some Stooge-style revenge on Big Mike, they are chased by his henchmen. Shemp manages to knock them out, but ends up knocking himself out as well. Moe and Larry try to revive Shemp but accidentally revive the goons, thus they take Shemp and flee the scene.
Cast
[
]
Richard Wessel

, as Chopper Kane

Frank Sully

, as Big Mike
Notes
[
]
Fling in the ring is a reworking of the short, Fright Night which also featured Shemp as the third stooge.
When Cy Schindell says "I'm Sorry" the line is repeated twice to cover up the boss line since Frank Sully plays Big Mike in this remake. This remake portray's Harold Brauer(Original Big Mike) as one of Sully's Henchmen.
The intro music of this film was re-used to Hold That Lion! to Rip, Sew and Stitch (except for new music was replaced in 1949 to 1954). It was last time using is music for seven years.
 

Columbia Pictures short subjects
Curly, Larry, Moe
Shemp, Larry, Moe
Joe, Larry Moe