We're Getting Mutants in the MCU - The Loop
Play Sound
Flagpole Jitters is the one-hundred-sixty-ninth Columbia Pictures short subject starring the Three Stooges.
Plot
[
]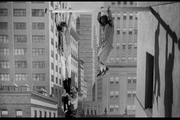 The Stooges are three paperhangers who also look after invalid Mary, who is confined to a wheelchair. While working, they are taken by one poster that advertises a great hypnotist, Svengarlic ("He'll steal your breath away!" the poster announces). The Stooges want the hypnotist to work his magic on Mary so that she can walk again, but Svengarlic is more interested in winning an audience to create a diversion by hypnotizing the Stooges. While the audience watches the Stooges dance on an overhead flagpole, Svengarlic's henchmen are in the process of robbing a bank. But a distracted bicyclist knocks Svengarlic over and the Stooges are abruptly awakened. They immediately panic when they see where they are, then the flagpole breaks, sending them flying through a window.
Cast
[
]
Vernon Dent, as the insurance guy
Svengarlic, the Great Hypnotist
Mary Ainslee, as Mary
Notes
[
]
The Stooges make an amusing reference to Sing Sing Correctional Facility, in which Shemp believes he has hypnotized Moe into thinking he is locked up in the infamous prison.
David Bond is only the original actor from Hokus Pokus to be reprise his role as Svengarlic for being character is fraud.
The character name Svengarlic is a parody of Svengali, the name of a fictional character in George du Maurier's 1894 novel Trilby.
This is one of four film where the Stooges work as paperhangers; the others being Hokus Pokus, Busy Buddies and Three Little Twirps.
Flagpole Jitters was later remade as Hokus Pokus, using some of the same footage as well as featuring Shemp Howard as the third stooge.
Although For Crimin Out Loud was released as the last film featuring new footage of Shemp. This was actually shot after For Crimin Out Loud.
When Shemp is hanging on Moe's legs his double can be seen.
In this remake, Mary Ainslee was unable to reprise her role as Mary, supporting actress Connie Cezan is used as a body double for Mary Ainslee, however she does not speak any lines.
 

Columbia Pictures short subjects
Curly, Larry, Moe
Shemp, Larry, Moe
Joe, Larry Moe