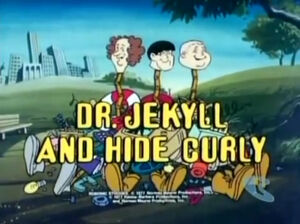 Dr. Jekyll and Hide Curly is the twenty-seventh episode of The Robonic Stooges.
Dr. Jekyll has escaped prison and plans to perform an experiment on Curly, which will give him a face on the back of his head, just like Dr. Jekyll.
Meanwhile, at 3 Stooges Ship Repair Yard, Larry and Curly are working on the makeup of a woman on the front of a ship, while Moe sits in a chair and watches them. When he sees what they did, he gets angry. Then they get a call from Agent 000, telling them about Dr. Jekyll and adding that they should hide Curly. Curly initially changed into his costume with the others, before Moe stops him. Curly then goes back and puts on two disguises (a sailor and a ballerina), both of which Moe tells him are unacceptable. Curly then changes into a variation of his costume, except the C on his chest is a Z, and he's wearing a Frankenstein mask. Then, the stooges are off.
Dr. Jekyll later captures Curly, and Moe and Larry try to save him. But all three of them end up being experimented on and then taken to a dungeon. Curly then tried twice to undo the experiment. Once it's a success, the stooges untie themselves, and fall to the ground, now a heap of bolts. When they get to Dr. Jekyll, the stooges capture him, but end up causing an explosion of fireworks which causes them to malfunction, and that's how the episode ends.
The title is a pun on Dr. Jekyll and Mr. Hyde.
Community content is available under
CC-BY-SA
unless otherwise noted.