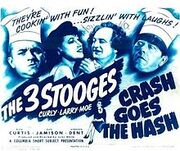 Crash Goes the Hash is the seventy-seventh Columbia Pictures short subject starring the Three Stooges.
The Stooges are shirt pressers who are mistaken as reporters for the Starr Press. Fuller Bull (Vernon Dent), the head of an ailing competing newspaper, quickly hires the Stooges to get a picture of visiting Prince Shaam of Ubeedarn (Dick Curtis). Word has it that Shaam has plans to marry local wealthy socialite Mrs. Van Bustle (Symona Boniface). The trio disguise themselves as servants, and work their way into a party being held at Mrs. Van Bustle's home in the honor of the prince.
Naturally, they all but sabotage the festivity. The inept trio serve hors d'œuvres consisting of peas and dog biscuits, and a turkey stuffed with a live parrot. The prince leaves in disgust, with Flint, the majordomo (Bud Jamison), following close behind. Undaunted, the Stooges manage to expose both the prince and his majordomo as crooks who were planning to rob the house. As a result of their findings, Fuller Bull gives the boys a large bonus.
This episode marks the final appearance of the late Bud Jamison in a Stooges film when he played Flint, the majordomo.
The parrot's exclamation "Jeepers creepers! What a night!" combines the 1930s slang euphemism from "Jesus Christ" (made into the Johnny Mercer 1938 song "Jeepers Creepers, Where'd You Get Those Peepers?") and the parrot's "What a night!' from the Stooges' 1936 entry Disorder in the Court.
Larry: "I've been running my legs off all morning 'til the cuffs on my pants are frayed."
Moe: " 'Fraid of what?!" (Translation:Afraid of what?!)
Curly: "What good is a $100 bogus?"
Larry: "Not 'bogus.' 'Bonus!' Don't you know what 'bonus' is?"
Curly: "Soiteny, Spanish! 'Bonus Naches!' Si, si, senor!"
 

Columbia Pictures short subjects
Curly, Larry, Moe
Shemp, Larry, Moe
Joe, Larry Moe