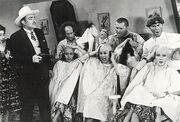 Cookoo Cavaliers is the fifty-first Columbia Pictures short subject starring the Three Stooges.
The Stooges are unsuccessful fish salesmen. They decide they want to open a saloon. When Curly tells a Mexican real estate dealer (Lynton Brent) their saloon has "...gotta have class and gotta have beauty," they end up with a beauty "saloon." Undaunted, the trio try their hand at giving a customer (Dorothy Appleby) a mud pack using, natural, real mud. After chiseling the cement off her face, the boys scalp three other Mexican beauties before having their bottoms shot full of holes.
Lynton Brent, as the estate dealer
Dorothy Appleby
 

Columbia Pictures short subjects
Curly, Larry, Moe
Shemp, Larry, Moe
Joe, Larry Moe
Community content is available under
CC-BY-SA
unless otherwise noted.