Over the course of their career, the Three Stooges were featured in several television commercials.
Aqua Net Hair Spray
[
]
The Stooges played several different roles in these commercials. Of the three filmed, only one of them is known to have survived. The Stooges play pharmacists awaiting delivery of Aqua Net Hair Spray as well as warehousemen and truckers. Pharmacists deliver the spray to the men with a nice date and handful of flowers, candy, and Aqua Net.
Metropolitan Life Insurance
[
]
A commercial, also titled "The Door," in which Met's family security plan agents Moe, Larry and Curly Joe are seen next to a home in a bad car, and unloading weapons to break the door down, causing the house to be destroyed. A narration follows, "Be protected from fire, flood and other calamities, and as the house collapses, even The Three Stooges."
Astro Snacks
[
]
The Stooges filmed a commercial in order to promote Continental Baking Products Astro Snacks on April 1, 1967. It was filmed during a live stage show in Washington, D.C.
Chunky Chocolates
[
]
Little is known about this commercial, other than it featured Moe, Larry, and Curly Joe.
Dickies Work Clothes
[
]
The Stooges appeared in a commercial for Dickies work clothes, in which they showed how durable the clothes really were.
Hot Shot Insecticide
[
]
Little is known about this commercial except that it featured Moe, Larry, and Curly Joe.
Instant Simoniz
[
]

Instant Simoniz was a product from the 1960s. The Stooges appeared in one commercial, in which they are lab professors who are working on something but can't get it. Then one of them suggests Instant Simoniz and then Moe says Instant Simoniz cleans everything.
Star Spangled Salesman
[
]
Star Spangled Salesman was a series of commercials, in which Howard Morris talked to various celebrities, about selling. One of these commercials featured the Three Stooges.
The Arthritis Foundation
[
]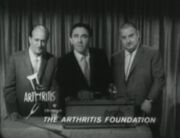 A public service announcement, where Moe and Larry appear as con men attempting to sell Curly Joe a phony arthritis cure. Breaking from his usual tradition, Moe talks to the viewers, asking them to support Medical research, for real cures of Arthritis and rheumatism, and donations to the Arthritis Foundation.