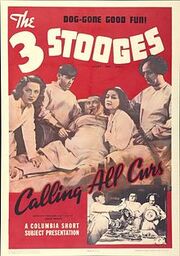 Calling All Curs is the forty-first Columbia Pictures short subject made by the Three Stooges.
The Stooges are skilled veterinarians at a pet hospital who are the proud surgeons of Garçon, a prized poodle of socialite Mrs. Bedford (Isabelle LaMal). When dognappers posing as reporters (Lynton Brent, Cy Schindell) dognap the poodle, the boys frantically try to trick Mrs. Bedford by disguising a mutt as the Garçon. However, when Mrs. Bedford's maid (Libby Taylor), who is frightened of dogs, accidentally vacuums a clump of glued-on fur off the mutt's shaggy coat, Mrs. Bedford threatens to throw the Stooges in jail. Desperate, the trio use the mutt as a bloodhound to track down the crooks. When they discover the enemies' hideout, Curly defeats them in a fight. The boys hear Garçon quietly barking from inside a closet, only to discover that the prized poodle has had a litter of pups.
Filmed on December 27–30, 1938, the title Calling All Curs is a pun on the phrase "Calling all cars!"
Calling All Curs is one of the colorized films that was released in 2006 as part of the DVD collection entitled "Stooges on the Run."
This short film marks one of the few times the Stooges have respectable, professional careers as opposed to working as blue-collar laborers.
This was one of Curly Howard's favorite shorts as he was a well known to be a dog lover.
Moe (to the Garçon in disguise): "Listen, bloodhound! If you got any 'blood' in you, you'd better start pointing and point out those dognappers! Get the point?!"
Curly: "Hmmm, n'yuk, n'yuk n'yuk. He must be a Pointsetter." (referring to the poinsettia flower)
Moe: "Quiet, you hot air-dale!" (referring to an Airedale Terrier and making a pun on the phrase "hot air" as in "empty talk intended to impress")
 

Columbia Pictures short subjects
Curly, Larry, Moe
Shemp, Larry, Moe
Joe, Larry Moe
Community content is available under
CC-BY-SA
unless otherwise noted.