Broadway to Hollywood is a 1933 film directed by Willard Mack, released by Metro-Goldwyn-Mayer, and featuring many of MGM's stars of the time, including Frank Morgan, Alice Brady, Madge Evans, Jimmy Durante, Mickey Rooney, and Jackie Cooper.
Plot
Fictional show biz saga of the Hackett family, covering three generations. Turn-of-the-century vaudeville headliners Lulu and Ted Hackett bring their young son Ted Jr. into the act, and watch him become the star as vaudeville matures into an American entertainment tradition. The act graduates to Broadway and young Ted's rise to fame is spectacular... and so is his downfall. Lulu and Ted are left to raise their young grandson Ted III, and try to keep him from falling into his father's bad habits when Hollywood beckons.
The story is loosely based/inspired by the Cohan and Foy families.
The Howard Brothers cameo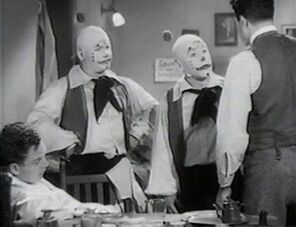 Moe Howard and Curly Howard appear without Ted Healy and without Larry Fine, almost unrecognizably, as Otto and Fritz, Dutch-accented stage clowns of dubious character who mug a drunken Ted Jr. for his bankroll.

The film features several sequences taken from the unfinished MGM musical The March of Time (1930), including some filmed in the early two-strip Technicolor process. Fay Templeton, DeWolf Hopper Sr., and Albertina Rasch and her dancers are featured in footage taken from The March of Time. However, current prints of Broadway to Hollywood as shown on Turner Classic Movies have no color sequences.