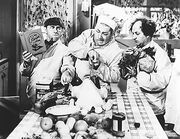 An Ache in Every Stake is the fifty-seventh Columbia Pictures short subject starring the Three Stooges.
The Stooges are icemen making a delivery at a house atop a long, high staircase — so high that every time they go up, the ice melts to a cube. When their antics cause the servants at their customer's house to quit, the Stooges are hired to replace them and prepare dinner for her husband's birthday party. Unknown to them, the man she refers to is Mr. Lawrence (Vernon Dent), whose cakes they had previously wrecked earlier in the day. When the birthday cake they prepared is finished, it was accidentally pierced, and it deflates in the process. The cake is "re-inflated" using town gas through the gas stove's connection.
During the party, the Stooges sing a "Happy Birthday" song to the tune of "London Bridge is Falling Down"; when Mr. Lawrence blows the out candles, the gas-filled cake explodes. Mr. Lawrence angrily realizes who the new 'help' are, and the Stooges are forced to leave in a hurry-sliding down the steps.
 

Columbia Pictures short subjects
Curly, Larry, Moe
Shemp, Larry, Moe
Joe, Larry Moe
Community content is available under
CC-BY-SA
unless otherwise noted.