A Ducking They Did Go is the thirty-eighth Columbia Pictures short subject starring the Three Stooges.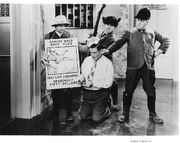 The Stooges are once again unemployed. After an unsuccessful attempt to steal a watermelon from a deliveryman), which lands them in trouble with a cop, the boys wind up at the offices of the Canvas Back Duck Club. The club, run by conmen Blackie and Doyle needs some salesmen and the trio have no trouble getting the job because, unbeknownst to them, the whole thing is a scam. Dressed in duck-hunting gear, Larry, Moe, and Curly invade the police station and barge right into the office of the police chief. The Stooges somehow convince him, the mayor, and the entire police department to join up. The Stooges try to sell vegetarian a membership to the Canvas Back Duck Club in A Ducking They Did Go. Once the stooges informed the conmen about the sale and who they sold them to, the conmen took the money and leave knowing that they'll get caught if they stay. By the time the group arrives at the lodge, the "club owners" are long gone, and an old man assures them that there are no ducks to be found. In a panic, Moe and Larry try to solve this dilemma by hurling rubber decoys over the pond. Curly arrives at last with a large flock of ducks (à la The Pied Piper of Hamelin) and leads them into the water. Eventually, the old man shows up ranting that he owns all the ducks that were shot, the cops realize they have been swindled and point their guns at the Stooges, who flee the scene.
 

Columbia Pictures short subjects
Curly, Larry, Moe
Shemp, Larry, Moe
Joe, Larry Moe
Community content is available under
CC-BY-SA
unless otherwise noted.